Attempting an Urban version of a potato tower in our raised Philadelphia small lot veggie garden.  I saw a video on Facebook about building a potato tower and I was hoping to give it a try.  As of May 2017 everything on the zoning challenge front is still in the fight, so I figured why not?  Our Urban experiment of a Potato Tower is documented in this blog post.  Maybe we will make enough potatoes to offset the property taxes.
The really neat thing about this potato tower is that it is above ground and when the potatoes are ready you just take the tower walls away and you have potatoes.
The original article was published in Facebook by Patricia Lynn via shareably.net.  It is a good thing I tried this because as I tried the link to the site, it appears that the original post is now gone.  However, there are plenty of articles out there just search "create-a-potato-tower-for-plentiful-potatoes".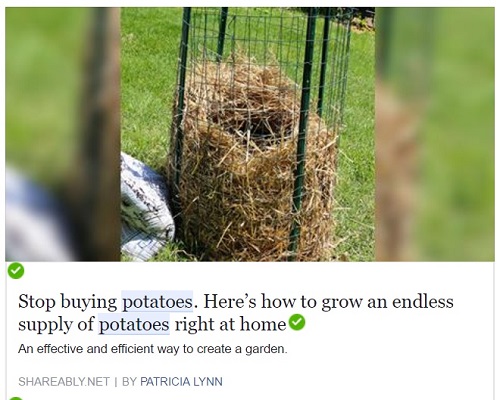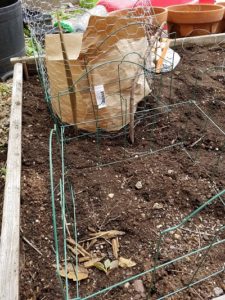 My problem was finding straw in the city of Philadelphia and building this tower.  I found substitutes Home Depot had this small green 10 ft in length fence for $6 each and I bought two.  They also had chicken wire for about $11 dollars.  So the cage is covered.
Problem, where do I find straw?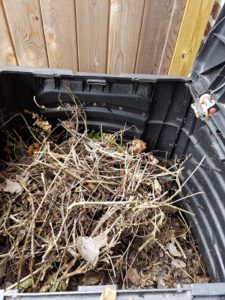 So I figured why not try a brown paper bag?  Plus we had plenty of tree sticks from our big old tree in our compost bin.
I figure straw won't last forever, so why not try a few things that anyone would be able to find in an urban city?
I basically made a very simple square box with the small green fence and then created a circle wall with the chicken wire inside the small green square.  The chicken wire comes with extra little pieces of wire which I used to secure to the green fence wire.
Then I lined the inside of the chicken wire with a brown paper bag the I torn in half to cover the wall.  Once the bag looked a little stable I went ahead and lined the sides with twigs from the compost bin.
Here is my 4 year old recording me add the dirt and providing commentary as he is trying to call our Big Dog.  The video is posted in YouTube. It is funny, well at least to me.
The finished potato tower would look like this: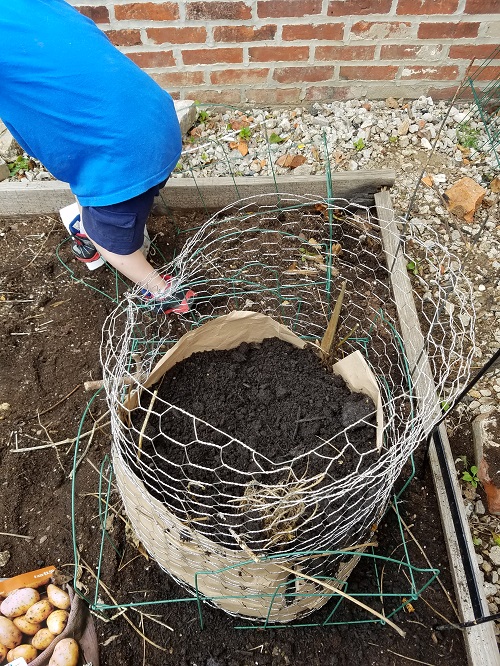 Now you just add the potatoes.  The instructions say cover with about an inch of dirt.  The seeding potatoes I had sat around for a while but some already looked like they were spouting.
I marked my Urban Potato Towers with the pictures from the seed potato bags.
Even though these towers were pretty close to the diy sites, I was worried that the dirt would dry out.  One of the issues of raised beds and flower pots is the dirt drying out.  So today I was shredding old papers and decided to try using the shredded paper to keep the moisture in.
I made about a 1/2 inch layer of shredded paper and covered it with dirt and watered.  I hope this works.  It seemed to work.
This is definitely an Urban Garden Experimental now.  Reusing paper bags, raised garden, compost twigs and now shredded paper.  Oh and I almost forgot our captured rain barrel water from the city of Philly. This will be cool if it all works.
Cheers and Happy Gardening in your Small Urban Garden Lot.
Some of the early May 2017 pictures of our garden.  Crossing our fingers.