Tree and Green Space Haters in Philly
We got a kick out of the comments on Facebook and other sites regarding our campaign to maintain open space and a 80 year old tree in South Philadelphia.  Some will make you laugh and others will make you go what?  Please help save open space in development projects and sign and share our petition today.
https://www.change.org/p/councilman-mark-squilla-save-old-2-st-tree
Here are some of the best:
Hey Suburbanites, welcome to Philly, land of concrete. If you want trees everywhere, move back to the Culdesac!
Want more trees. Move to Jersey! Worried about oxygen. Get rid of the factories. Car exhaust. Ride a bike.
If you're stupid enough to live in an urban environment you should have to take a bus to see a tree.
Really?! Wildlife?!!!! Rabid pigeons? Rats? Roaches… Progress
Other comments for or against were items that one could discuss and debate.  We have learned a lot from all sides and perspectives.
The land of concrete one inspired the cartoon.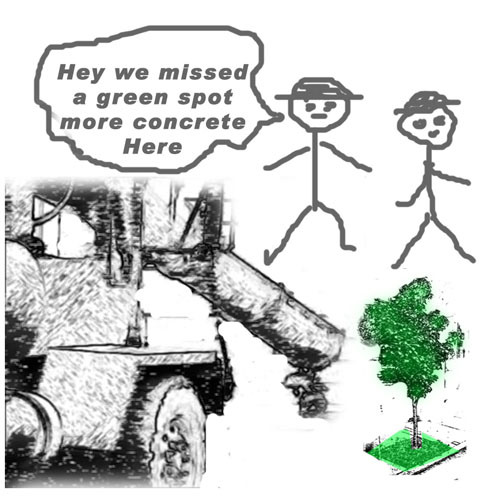 Please don't forget to sign and share our petition to save small open spaces in new developments in Philadelphia.
https://www.change.org/p/councilman-mark-squilla-save-old-2-st-tree