How about some Healthy Gazpacho Soup?
It was a great day in the garden.  The cherry tomatoes are growing like crazy as they always do.  We never did cucumbers before, but they are sure producing really well.  So well, that I had to figure out something to make with them, because a simple salad was not enough.
GAZPACHO SOUP
According to wikipedia (https://en.wikipedia.org/wiki/Gazpacho), it is a Spanish dish
One thing about the internet that is nice, is all the different recipes. All the recipes call for
Tomatoes (some say tomato juice also but is really only took a few tomatoes to make a good 4 adult servings)
Cucumbers
Bell peppers (I didn't have)
Onion, usually red (I only had white/yellow)
garlic
olive oil
lime juice (that I have because the wife was making margaritas)
Worcestershire sauce (warning you have to leave this out if you want it to be vegan or gluten free)
balsamic vinegar
salt and pepper
cumin
basil leaves for a topper
stale bread (this I did not have so I guess it will be gluten free) – left over bread from the Italian market works best.
Jalapeño (this was my add because we have so many and the spice might work and it did)
I used Alton Brown's recipe from the food network (http://www.foodnetwork.com/recipes/alton-brown/gazpacho-recipe.html).  He always seems to have good basic recipes.  I did not use as much tomatoes as he suggested and I threw in another cucumber, juts because I had so many.  The blanching of the tomatoes in boiling water worked perfectly to remove the skin.  Also I highly recommend removing the seeds from the tomatoes, cucumbers and Jalapeño, it makes the final product so much better.  Without the seeds, the texture is perfect. In some recipes the mixture is blended really well, but I left it some what choppy on purpose.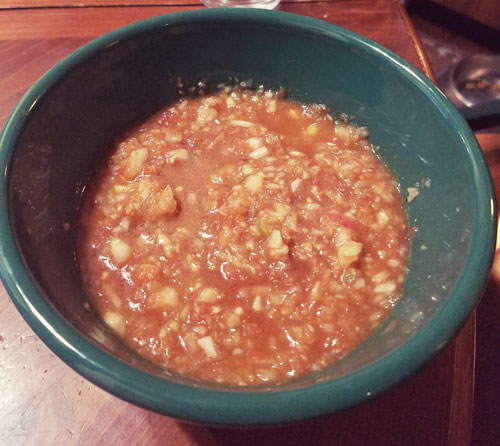 So I realized also that Worcestershire (https://en.wikipedia.org/wiki/Worcestershire_sauce) will make any recipe non-vegan (https://en.wikipedia.org/wiki/Veganism) and non-gluten free (https://en.wikipedia.org/wiki/Gluten-free_diet).  The ingredients include barley malt vinegar (barley is not gluten free) and anchovies (not vegan, but I love them).  I don't know how you all do it.
I tried it after a couple of hours of sitting in the frig, but if you let it sit over night!  The flavors are amazing the next day and you can really taste the cucumber.
We let you all know how this cucumber and avocado dish comes out.
Please don't forget to sign and share our petition to save small open spaces in new developments in Philadelphia.
https://www.change.org/p/councilman-mark-squilla-save-old-2-st-tree